Snowy Georgia - the discovery of the last decade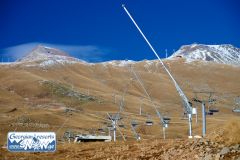 The boom of development and upgrades of ski resorts in the mountains of Georgia
Until recently, most skiers and snowboarders have never heard that there are good skiing possibilities and modern ski resorts and infrastructure in Georgia. This country was more associated with the sun, the warmth, the vineyards, the sea and tangerines. Now, thanks to the development and construction of modern resorts in the mountains, Georgia attracts even the most discerning "hunters for the snow" - skiers, snowboarders and ski tourists. And the slogan "Sunny Georgia" until recently sounded the same realistic as the new epithet "Snowy Georgia", which was born just in the last decade.
The decisive role in the opening of the ski potential of Georgia for the mass tourist, belongs to the State, which committed to the development and popularization of ski resorts in the country since 2005.
Reconstruction of existing and construction of new ski resorts in Georgia - a priority of the State
In the past five years has been updated the popular mountain resort of Georgia - Gudauri. There have been constructed new cable cars, improved the infrastructure, installed snowmaking systems. During the last two years in the oldest ski resort of Georgia - Bakuriani was also carried out the reconstruction of old and construction of new cable cars, installation of snow cannons and continued construction of new hotels. In 2014 the ski resort Bakuriani as a result of the rebranding was named «Ski resort Didveli».
New ski resorts Goderdzi and Tetnuldi will further expand the opportunities for ski holidays in Georgia
In 2012 started the construction of two new ski resorts simultaneously in two different mountainous regions of Georgia - Svaneti and Adjara. On the slopes of the mount Tetnuldi in Svaneti is being constructed the ski resort with the same name - Tetnuldi, size and capacity of which largely surpasses the potential of the ski resort Gudauri - the most popular at the moment in Georgia.
In 100 km from the Black Sea coast of Georgia, on the Goderdzi Pass in Adjara completed construction of a new ski resort Goderdzi. In winter 2016 is planned to launch ski resorts Tetnuldi and Goderdzi. In Tetnuldi left to complete the construction of cable car, in Goderdzi - to complete construction of the first hotels for the reception of tourists.
It has been read
16011
times